Historic Hendersonville's Attractions 
Historic Downtown Hendersonville – was entered into the National Register of Historic Places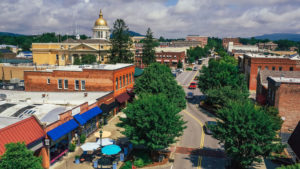 in March of 1988. The serpentine street features planter boxes brimming with, benches, seasonal flowers, and trees. Downtown boasts a wide array of shopping, specialty stores, galleries, museums, an aquarium, and a variety of restaurants.
Downtown hosts many activities including the NC Apple Festival held during Labor Day weekend, as well as, art shows, an antique show, car shows, and parades throughout the year. For additional information call the Main Street Program, 828-233-3216.
Wolfe's Angel – Author Thomas Wolfe's first novel was "Look Homeward, Angel".  In the book, there are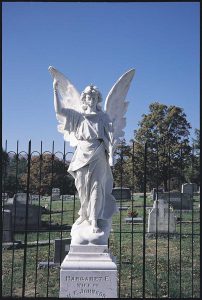 constant references to an angel statue carved from Italian marble.  This is the angel Wolfe placed in American literature.  Thomas Wolfe's father, W.O. Wolfe, sold the statue to the Johnson family to mark the family plot in Oakdale Cemetery.  The angel is holding a lily in her left hand and extending her right hand upward.  Oakdale Cemetery is located on Hwy. 64 W., just a short distance from downtown. The statue is protected by a wrought iron fence, and there is a historical marker located on the highway.
Henderson County Curb Market – is a unique farmers market requiring sellers to be residents of Henderson County. All items sold at the market must be either hand-made or locally grown. The vendors offer a variety of goods such as crafts, baked goods, jellies, plants, flowers, toys, and produce. The market has been in continuous operation since 1924. Open Tuesday, Thursday, and Saturday from April – December, Saturday & Sunday from January – March.  The Curb Market is located on the corner of 2nd Avenue and Church Street at 221 N. Church St., Hendersonville, NC, 828-692-8012.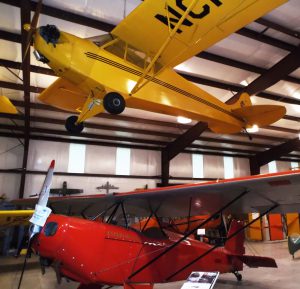 Western North Carolina Air Museum – is the first air museum in the state of North Carolina known as the "first in flight" state. The museum features award-winning restored and replica antique and vintage airplanes. Open year-round on Wednesday, Saturday and Sunday. No admission charge. The museum is located adjacent to the Hendersonville Airport, 1340 East Gilbert Street, Hendersonville, NC, 828-698-2482.
Henderson County Heritage Museum – The Henderson County Heritage Museum brings history with public display galleries, artifacts, collections, archives, libraries, demonstrations, performances, and other similar exhibitions relating to the history, culture, and heritage of Henderson County. The museum is housed in six rooms of the renovated Historic Henderson County Courthouse. The museum is open year-round Wednesday – Sunday.  For information call 828-694-1619.
Apple Valley Model Railroad Museum– The first steam engine puffed up the Saluda Grade to the Hendersonville Depot in 1879. The steam engine needed a "help engine" attached to the rear of the train at Melrose for 
additional power to push the train up the Saluda Mountain Grade, the steepest mainline standard gauge railroad in the United States. The Carolina Special ran between Charleston, South Carolina, and Cincinnati, Ohio from 1911 until 1968.
The restored Depot houses a HO scale railroad layout that is highly detailed and is prototypical of Hendersonville, Saluda, Asheville, and Western North Carolina.  The Deport features historical artifacts, a Southern Railway caboose, and a special children's exhibit where they can operate a Thomas the Tank train in a scenic layout. See the 10ft x 80 ft Garden "G" scale layout. Open year-round, Wednesdays & Saturdays. Admission is free, donations appreciated. Call for special arrangements, 828-595-0446. Located 7th Avenue East, 650 Maple Ave, Hendersonville, NC
Mineral & Lapidary Museum of Henderson County – The Mineral & Lapidary Museum of Henderson County was established in 1997, housing exhibits from North Carolina, minerals, Indian artifacts, a dinosaur egg nest, fossils, fluorescent minerals, gems, and faceted minerals. The Museum's specialty is Geodes, which are sold, cracked and/or displayed, plus a large skeletal replica of a T-Rex Dinosaur Head. Open Monday – Saturday. Admission is free. The museum is located at 400 North Main Street, on the lower level of the Henderson County Genealogical & Historical Society building. For information call 828-698-1977.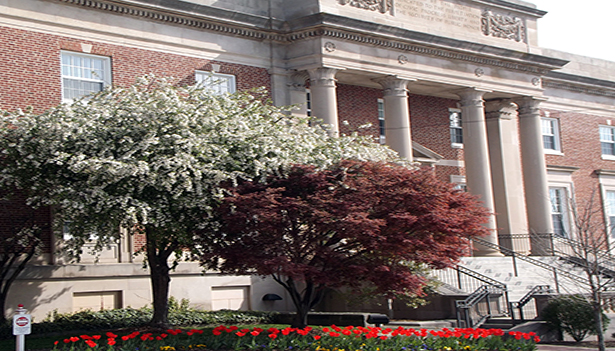 Hendersonville City Hall was built in 1928, and contains many artifacts and historic items, including large statues of of the three Presidents from North Carolina, General Andrew Jackson, James Knox Polk and Andrew Johnson. The statue is actually the ceramic model used for making the molds to cast the bronze statue on display at Capital Square in Raleigh, NC. City Hall was designed by well-known North Carolina architect Erle G. Stilwell. 160 6th Avenue East, Hendersonville, NC, 828-697-3000.
Historic Johnson Farm – Johnson Farm is a fine example of a late 19th and early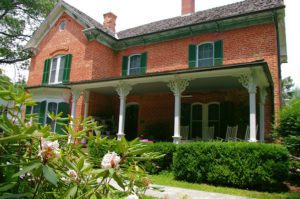 20th-century farm & tourist retreat. The entire structure was handmade from bricks that were fired on-site from the French Broad River mud.  The Johnson Farm was the home of a wealthy tobacco farmer, Oliver Moss. Construction of the elegant home, smokehouse, and granary began in 1876 and was completed in 1880. Over the years many outbuildings were constructed, including a tool shed/blacksmith shop, barn, boarding house, and a cottage.
In 1987 the Johnson brothers willed their farm and personal possessions to the Henderson County Board of Public Education. It was Vernon and Leander's wish that the property becomes a hands-on museum, a lasting example of a typical mountain farm through which students could explore their heritage.  The farm was listed on the National Register of Historic Places in 1987.
The Heritage Weavers and Fiber Artists have transformed the boarding house into a fiber arts center, which includes weaving, rug hooking, bobbin lace, spinning, or knitting.
The farm is located at 3346 Haywood Road, across from Rugby Middle School. For information call 828-891-6585. Admission charged for tours, grounds are free to visit.
Jump Off Rock – Jump Off Rock is a scenic overlook, which provides a panoramic view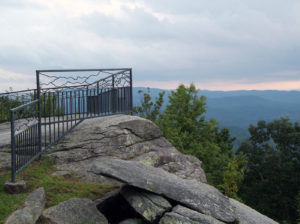 of rolling pastures, the Blue Ridge and Pisgah mountain ranges. There are three hiking trails, varying in length and difficulty.
Jump Off Rock also holds an Indian legend that has been passed down for many, many years. Over 300 years ago a young Cherokee Indian maiden received word that her young Indian Chief had been killed in battle, so she climbed to the edge of the rock and jumped off.  Indian legend has it that on moonlit nights you can see the ghost of the maiden on Jump Off Rock. Jump Off is located about 5 miles from downtown at the end of Laurel Park Hwy.  The park is open daily, sunrise to sunset. No admission charge.
Holmes Educational State Forest https://www.ncesf.org/holmes.html- Holmes Educational State Forest offers a series of well-marked trails, accented by exhibits and displays depicting the ecology of a managed forest.  Picnic sites with tables and a spacious picnic shelter & grills.  Holmes Educational State Forest is located about 8 1/2 miles from downtown.  The forest is open Tuesday – Sunday from mid-March to late November and Tuesday – Friday during the winter months.  For information call 828-692-0100. 1299 Crab Creek Road, Hendersonville, NC.
Aquarium & Shark Lab by Team ECCO – offers a public aquarium with 20+ displays showcasing eels, stingrays, sea horses, bamboo sharks, a touch tank and more. Open Wednesday through Saturday. Other times for special events by request, group rates and programs are available, 511 North Main Street in Downtown Hendersonville, NC, 828-692-8386.
DuPont State Recreational Forest – The forested land was purchased by the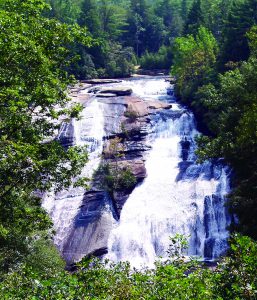 State of North Carolina after DuPont sold its industrial operation in 1996 and 1997; the surrounding landholdings became DuPont State Forest.  The forest encompasses more than 10,000 acres in Henderson and Transylvania counties.  It is situated in the Little River valley and includes waterfalls and 80 miles of roads and trails wandering through mountainous terrain.  It is open to the public for hiking, mountain biking, and horseback riding.  Fishing is allowed with a valid NC fishing license.  Hunting is by special permit only, issued by NC Wildlife Resources Commission.  The North Carolina Division of Forest Resources manages the forest.  For information call 828-877-6527. Download the Hunger Games film locations.
Many scenes from the movie, The Hunger Games, were shot in Dupont State Recreational Forest. The Hunger Games were filmed entirely in North Carolina. The Hunger Games trilogy, which includes Catching Fire and Mockingjay, is a young-adult adventure science fiction series written by Suzanne Collins.
Pisgah National Forest – The Pisgah National Forest's 500,000+ acres stretches across the eastern edge of Western North Carolina's mountains. The Forest offers hiking trails, fishing, camping, picnic sites, and spectacular waterfalls. Some of Pisgah National Forest's attractions include Looking Glass Falls, Sliding Rock, Pisgah Forest State Fish Hatchery, Pisgah Center for Wildlife Education, The Cradle of Forestry and the North Mills River Recreational Area. The North Mills River Recreational Area is located just 13 miles from Hendersonville and offers picnic sites, campsites, river fishing & tubing. For information call 828-877-3265.
Bullington Gardens – is a 12-acre, nonprofit horticultural education center offering programs, activities and workshops. The gardens and grounds include a therapy garden, shade garden, butterfly garden, perennial borders, native woodland garden, pumpkin patch and herb garden. The grounds also include a half-mile nature trail through the wooded area of the gardens. Open Monday-Saturday. Located on Upper Red Oak Trail off of Zeb Corn Road, Hendersonville, NC 828-698-6104.
Sierra Nevada Brewing Company – Sierra Nevada's east coast brewing, bottling and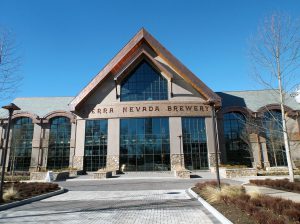 distribution operation in Mills River is located 10 miles from downtown Hendersonville, just south of Asheville. Guided tours of the brewery are offered 7days a week, reservations must be booked online. Sierra Nevada's Taproom offers 20 beers on tap. The restaurant serves farm-to-table dishes that are mainly supplied locally. The Taproom and Restaurant are open 7 days a week. Sierra Nevada is located in Henderson County on approximately 90 acres along the French Broad River. 100 Sierra Nevada Way, Mills River, NC 828-681-5300.
Historic Village of Flat Rock's Attractions
Historic Village of Flat Rock – The community of Flat Rock began about a century and three quarters ago.  Throughout Flat Rock the affluent Charlestonians, Europeans, and prominent plantation owners of the South's low country built large summer estates in the English manner. The families of South Carolina's Low Country came to Flat Rock to escape the sweltering heat and the epidemic of yellow fever and malaria. South Carolina's Low Country gentry affectionately called Flat Rock "The Little Charleston of the Mountains."
The entire district of Flat Rock is included in the National Register of Historic Places.  Historic Flat Rock Incorporated is striving to preserve the feeling of the Old South. Historic Flat Rock is home to several attractions such as The Flat Rock Playhouse, State Theatre of NC; the Carl Sandburg Home, NHS; and St. John in the Wilderness Episcopal Church as well as many unique specialty shops and enterprises.
Flat Rock Playhouse, State Theatre of North Carolina -produces a variety of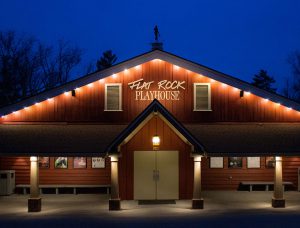 comedies, musicals, farces, and dramas, which range from World Premieres to the latest from Broadway and London to the Classics. The Flat Rock Playhouse has presented hundreds of productions for over sixty years.
The Playhouse is open from February through December, presenting matinees and evening performances Wednesday through Sunday. It is located at 2661 Greenville Hwy. (Hwy. 225 South) in Flat Rock, NC, 828-693-0731.
Carl Sandburg Home National Historic Site – Carl Sandburg, American poet, historian,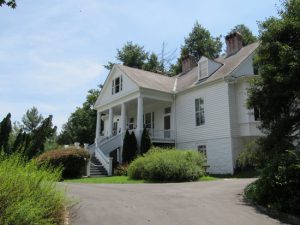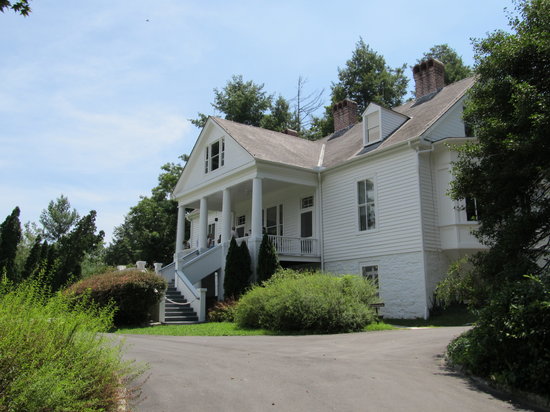 author, and lecturer spent the final 22 years of his long and productive life at his estate, Connemara, in Flat Rock, NC. Today this National Historic Site offers keen insight on Mr. Sandburg, his family, and their 264-acre working farm.  The Sandburg Home was built in 1838 and now houses his collection of 10,000 books, notes and papers.  The home offers daily tours (closed only on Christmas Day).  There are numerous hiking trails and a functional goat barn where Mrs. Sandburg raised her prize-winning goats. For additional information call 828-693-4178, 81 Carl Sandburg Lane, Flat Rock, NC. Admission charged for the home tour, access to grounds is free.
St. John in the Wilderness Church –  St. John in the Wilderness Episcopal Church, listed on the  National Register of Historic Sites, offers a unique perspective of prominent families in southern and national history.  St. John in the Wilderness was built as a private chapel in 1833, on the grounds of Charles and Susan Barings' home, Mountain Lodge. The church was deeded to the Episcopal Diocese of Western North Carolina in 1936.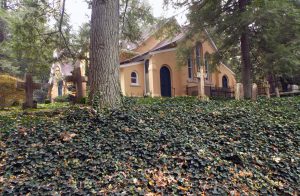 Many well-known members of southern aristocracy have family plots in the churchyard; those names include Christopher Memminger, first secretary of the Confederate treasury; Rev. John Drayton, developer of the world-famous Magnolia Gardens of Charleston; members of the families of three signers of the Declaration of Independence; Major General Edward P. King, Jr., of the United States Army who led the defense of the Bataan Peninsula in the Battle of Bataan against the Japanese invasion of the Philippines in World War II. The church and graveyard are open Tuesday – Sunday. The church is located at 1895 Greenville Hwy. in Flat Rock.  For information call 828-693-9783.